A Loan
to Pay Off
Credit Cards
One Simple Monthly Payment
Increase Your FICO® Score by up to 40+ Points*
Pay Off Your Credit Cards Faster
Checking your rate won't hurt your credit score.*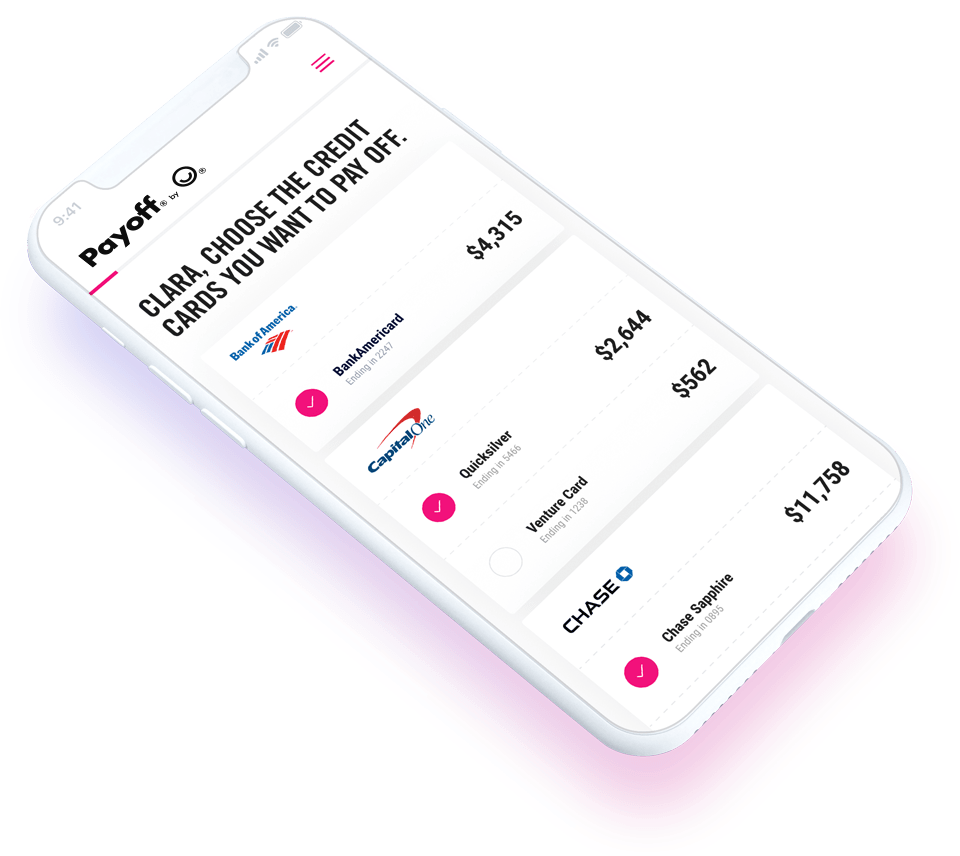 Your Best Interest at Heart
FICO® Score Boost
You don't have to cut up your cards or close accounts, and after you pay off your balances with the Payoff Loan™, your credit score can increase by up to 40+ points!*
A Decision That Pays Off
Paying off your credit cards is one of the best investments you can make. With the Payoff Loan™, you may pay less interest, get out of debt sooner and build your savings faster.
Personal Support Along the Way
No matter what part of the process you're in, our Member Experience Team is here, ready to help you along your journey of paying off your credit cards.
We Made the Process Simple
We don't like jumping through hoops anymore than you do. So we made it easy, straightforward and quick to apply.
Check my rate
Checking your rate is free and won't impact your credit score*
5 / 5 STARS ON Lending Tree
4.7 / 5 STARS ON Credit Karma
What Our Members Say
Easy online application. Wonderful, personal service from start to finish. Real people who care about making you comfortable along the way. I cannot say enough about how great this experience and the people at this company were.
WHAT WE'RE ABOUT
Real People. Real Heart.
---
We're here to help with whatever you need along the way. From calls (or email or chat if you prefer) to personal notes, we're committed to your success and creating a personal experience.
Have questions? We're here to help.
Check my rate
Checking your rate is free and won't impact your credit score*