MONEY
Equifax Data Breach & What to Do
Equifax recently announced a cybersecurity breach that affects approximately 143 million consumers. This security breach is one of the worst data breaches in history. Equifax is one of the three major credit reporting agencies that collect consumer sensitive data. According to Equifax, the exact information that was compromised includes social security numbers, date of births, addresses, and in some instances, driver's license numbers. In addition, over 200,000 consumer credit cards were also accessed along with dispute documents for another 182,000 consumers.
So What Exactly Happened?
Hackers exploited Equifax's website. They were able to find a hole in their security system that allowed them to access these sensitive files. The thieves had access to the data from mid-May until July, however, Equifax didn't discover the breach until July 29th and didn't announce it until September 7th.
"Equifax discovered the unauthorized access on July 29 of this year and acted immediately to stop the intrusion. The company promptly engaged a leading, independent cybersecurity firm that has been conducting a comprehensive forensic review to determine the scope of the intrusion, including the specific data impacted."
What does this mean for me?
The good news thus far is that Equifax said it did not find any "evidence of unauthorized activity on Equifax's core consumer or commercial credit reporting databases." This doesn't mean you're off the hook yet. As long as someone has your information, they can still potentially misuse it in the future. It takes time for some of the activity to show up on your credit bureau (usually about thirty days). Now is one of the best times to start taking action to ensure you're on top of your credit report.
How do I know if I'm affected?
Equifax set up a website for consumers to check if their information was compromised. You can go to https://www.equifaxsecurity2017.com/ to check.
If you scroll to the bottom you will see a button that says "Check Potential Impact." Click there first.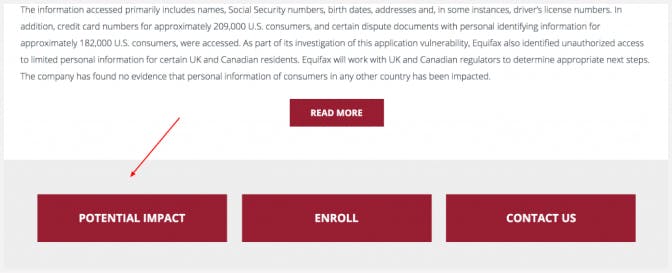 Next, click on "Check Potential Impact".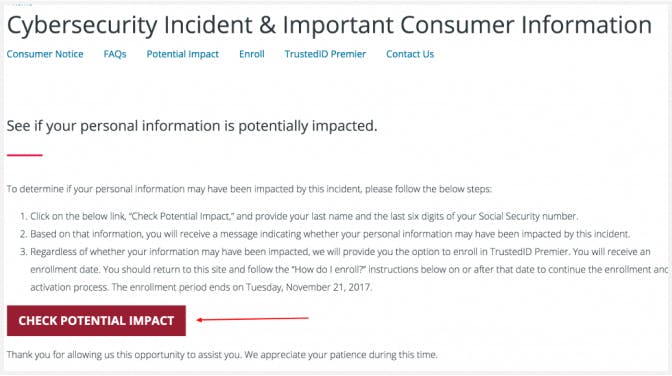 Next, click on "Check Potential Impact".
Last but not least, after you enter your information Equifax will tell you if they believe your information was compromised.
What does this mean for me?
Now, more than ever is the best time to sign up for free credit monitoring services like Credit Karma. Staying on top of your credit report can help you stay alert for any suspicious activity. You can get notified for any type of inquiry that a financial institution makes on your credit report to make sure no one is misusing your information. Credit Karma tracks both Equifax and Transunion for consumers for free.
Next, you should make it a habit to scan your bank statements every month. Look for suspicious charges and subscriptions. Remember, over 200,000 consumers had credit card numbers compromised as well.
If you find that someone is misusing your information, file a police report to document the identity theft. Immediately contact each credit bureau and dispute the item. Credit Sesame gives detailed steps on what to do if you fall victim of identity theft.
Consider Freezing your Credit Report
Freezing your credit report allows you to set up a personal identification number (PIN) that only you know. You can use this PIN to temporarily "thaw" your credit report when you have legitimate applications for credit. So in order for anyone to open any type of credit on your behalf, they will need your PIN. This extra layer of protection can help you get the peace of mind in case you're worried.
Staying on top of your credit report is the most important thing you can do to make sure no one is abusing your information. The latest Equifax breach is scary, but being proactive can stop anyone from stealing your identity.